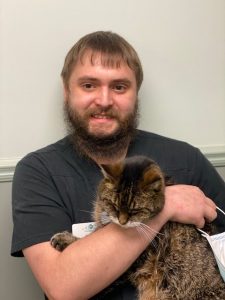 Jordan started his career in veterinary medicine in 2014. He joined Southpointe Veterinary Hospital in the beginning of 2020 as a veterinary assistant. He began as a kennel attendant at his previous clinic and quickly fell in love with vet medicine, from his initial position he was trained and began working as a Veterinary Assistant. Jordan is happy to be here at Southpointe, helping to care for of all of your pets while they're here.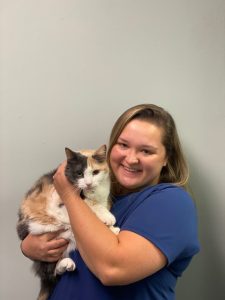 Alicia is a 2016 graduate of Truman High School. After which she attended EMU for animal psych for two years and then transferred to HFCC to start pre-reqs for Vet Med with a goal of attending vet school at University of Florida. Since she was a little girl she had great role models that help mold her into who she is today; a sister who is a zoologist and has worked with the conservation of wildlife, a mother who fosters kittens and feral cats, & cousins who have their LVT degree.
Ever since she was younger, Alicia has wanted to become a veterinarian. After high school, she began her vet experience as a vet assistant at a local clinic to gain knowledge and skill to help get acquainted with the field. She spent 1-1/2 years until leaving that job to focus on school. She has also volunteered at a farm for a few months gaining large animal experience. Alicia is currently pursuing a Licensed Veterinary Technician degree at Penn Foster. Her goal is to obtain her LVT degree and then return to HFCC to finish the other half of the Veterinary pre-requisites. Once completed, she plans to move to Florida to pursue vet school. Alicia knows it is a long journey, but is always up for a challenge!
At Southpointe, Alicia works as a veterinary Assistant in the treatment room.
Alicia feels that Southpointe has great teachers that are willing to share their knowledge and feels lucky to have gotten this opportunity. Alicia makes a promise everyday to try her best and do all that she can to help give the best care to every patient that walks through our doors.

Lindsey joined our staff in November 2000 as a Kennel Attendant. She is now skilled in several areas of our Hospital: Technician, Receptionist, and Exam Room Assistant.

Vicki joined the staff of Southpointe in October 2003. "I always heard what a wonderful place Southpointe Veterinary Hospitalwas and now with my own eyes, I see it for myself."
Vicki is one of our Exam Room Assistants and also oversees the hospital inventory. When your pet needs special medication, she places that order for you.
Vicki is married, has 2 cats and an aquarium of angel fish.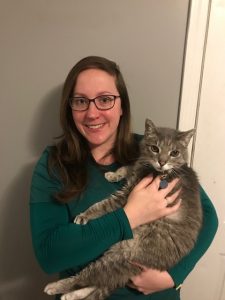 Amanda grew up in Wayne County and has always had a passion for animal welfare. She graduated from John Glenn High School in Westland, MI then went on to pursue her Veterinary Assistant certificate from Ross Medical Education Center. In her free time, she loves bowling, going to concerts (especially country), watching movies, engaging in outdoor activities, playing both board and card games, gardening, cooking, traveling, and reading. Amanda enjoys spending quality time with her family and friends as often as possible, and has two cat fur babies, Kailee and Phatty Patty. Amanda is enjoying working the dream as a full time Veterinary Assistant and continues to gain new skills every day.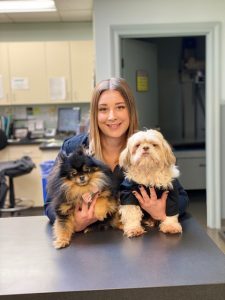 Courtney started with SPVH in December of 2018 while attending the Veterinary Assistant program at Ross Medical and graduated in March of 2019. She plans on furthering her education with Cedar Valley and becoming a licensed technician.
When she is not working, she is active in the rescue world and has a passion for senior rescue. Courtney is a coordinator for her rescue that she has been with since 2016. She enjoys spending time with her husband and her dogs Roxy,Mason,Brody, Smokey, Bella and Milly that are all rescues and her two cats Whiskey and Camo who she bottle fed when they were just 2 week old orphans.
"I really enjoy working at SPVH. Everyday is a new learning experience and I am so thankful to work with an awesome group of women who have been in this field for quite some time. All of their knowledge and passion really pushes me to be a better assistant every day! I love all of our patients and I treat every single one as if they were my own!"