Lindsey joined our staff in November 2000 as a Kennel Attendant. She is now skilled in several areas of our Hospital: Technician, Receptionist, and Exam Room Assistant.

Vicki joined the staff of Southpointe in October 2003. "I always heard what a wonderful place Southpointe Veterinary Hospitalwas and now with my own eyes, I see it for myself."
Vicki is one of our Exam Room Assistants and also oversees the hospital inventory. When your pet needs special medication, she places that order for you.
Vicki is married, has 2 cats and an aquarium of angel fish.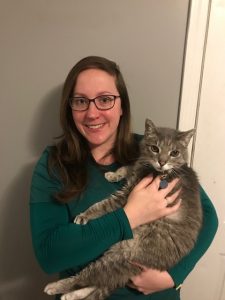 Amanda grew up in Wayne County and has always had a passion for animal welfare. She graduated from John Glenn High School in Westland, MI then went on to pursue her Veterinary Assistant certificate from Ross Medical Education Center. In her free time, she loves bowling, going to concerts (especially country), watching movies, engaging in outdoor activities, playing both board and card games, gardening, cooking, traveling, and reading. Amanda enjoys spending quality time with her family and friends as often as possible, and has two cat fur babies, Kailee and Phatty Patty. Amanda is enjoying working the dream as a full time Veterinary Assistant and continues to gain new skills every day.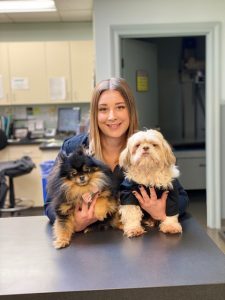 Courtney started with SPVH in December of 2018 while attending the Veterinary Assistant program at Ross Medical and graduated in March of 2019. She plans on furthering her education with Cedar Valley and becoming a licensed technician.
When she is not working, she is active in the rescue world and has a passion for senior rescue. Courtney is a coordinator for her rescue that she has been with since 2016. She enjoys spending time with her husband and her dogs Roxy,Mason,Brody, Smokey, Bella and Milly that are all rescues and her two cats Whiskey and Camo who she bottle fed when they were just 2 week old orphans.
"I really enjoy working at SPVH. Everyday is a new learning experience and I am so thankful to work with an awesome group of women who have been in this field for quite some time. All of their knowledge and passion really pushes me to be a better assistant every day! I love all of our patients and I treat every single one as if they were my own!"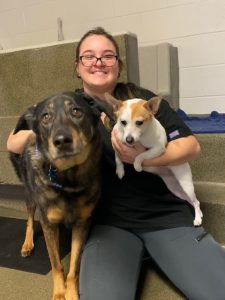 Shannon has been with Southpointe since March of 2017. Currently going to school to get her degree in veterinary medicine. She is mainly a kennel attendant, but helps out in other areas if they need an extra hand.
"I love working at southpointe. Was very grateful that I was able to get an early start in the field I want to work in the rest of my life. I like to try my hardest to keep the animals calm while they're here with us for any period of time. I hope to be able to stay with Southpointe all throughout my veterinary career."