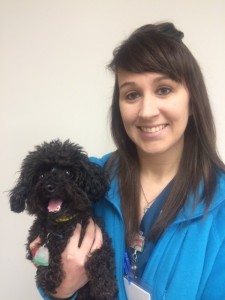 We encourage you to come and tour our boarding facility. We think that you will be impressed!
We have a heated floor system to keep our boarders comfortable and dry. The kennel area is kept very clean and has large ceiling fans to keep the air circulating. The compassionate and caring kennel attendants  take the time to exercise each dog (with their owner's permission) at least twice a day in our large fenced-in exercise yard. We have a smaller, quieter room for small dogs who prefer to be in a cozier environment.
Cats are housed in a separate, quiet room. The room has a large window and bird feeders just outside to keep your cat occupied and happy while away from home. The kennel attendants spend time with each cat giving attention, petting and loving care.
You may either call during business hours or e-mail us at anytime to request boarding for your pet. E-mail requests will be answered via e-mail within 4 business hours.
Please telephone if you are requesting boarding within the next 24 hours.
Click below  to download a boarding admitting form.
Click here to download Boarding Guidelines – "What to bring/what not to bring with your pet"