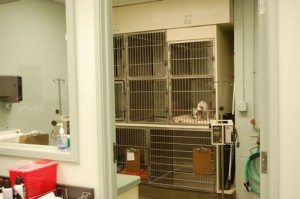 Our facility is a hospital equipped to care for very ill, injured or post-surgical patients. The hospital includes an intensive care unit that is located right in the treatment room for continual monitoring of the patient. We also have an isolation room for hospitalization of contagious patients.
When your pet requires hospitalization, the admitting doctor oversees the care and treatment. A licensed veterinary technician (L.V.T.) is assigned to monitor the patient throughout its stay. Each patient is provided with individual care. The doctor's orders are followed carefully regarding medications, fluid administration, oxygen administration and monitoring particular physiological parameters. We feel that the most vital part of your pet's stay is the gentle, loving care provided by our licensed veterinary technicians and veterinary staff.
We encourage you to call at anytime to check on your beloved pet's progress. Owners are welcome to visit their pet while it is hospitalized. Please arrange a convenient time to visit either with the attending doctor or technician.