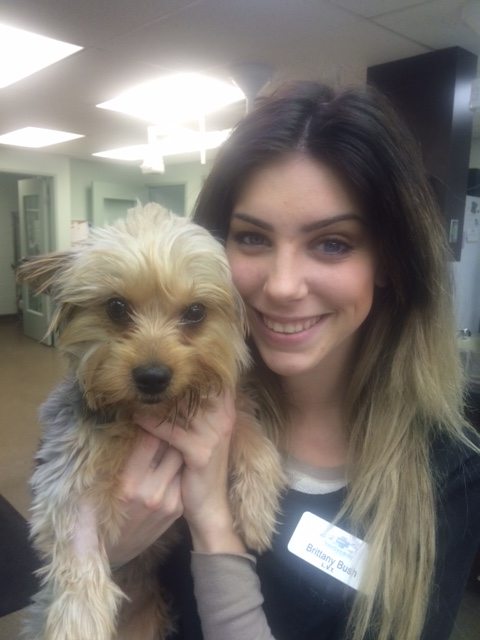 Director of Inpatient Care – Brittany
Brittany is responsible for managing the technician team in the care and treatment of all patients in the hospital.
Brittany graduated in 2013 from Sanford-Brown College with an Associates Degree of Applied Science in Veterinary Technology. She joined the Southpointe team that November.
I strive to make animals feel safe and comfortable while they are at our clinic. Their owners can trust that no matter what, their pets are in great hands here at Southpointe."
Outside of work Brittany enjoys cooking and spending time with her fiancé and their Doberman Pinscher, named Sith.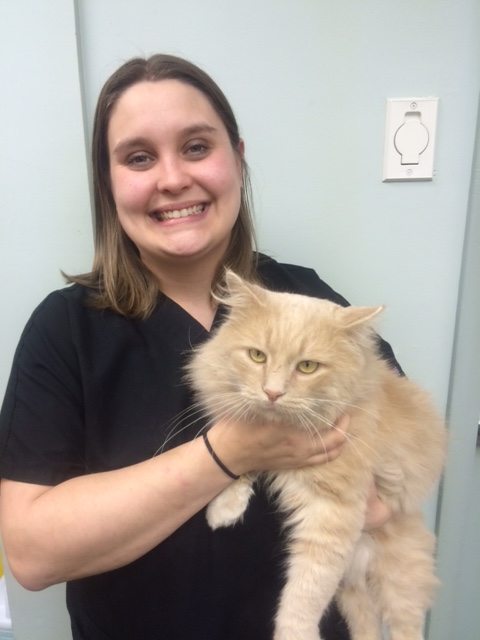 Michelle is a 2007 graduate of the Wayne County Community College Veterinary Technology Program. She has been part of the Southpointe team since June, 2007 and is very happy for the opportunity to work in such a great environment–"the animals, owners, and staff are wonderful!"
Michelle has two pets: Zelda a Great Pyrenees and a cat named Isabelle.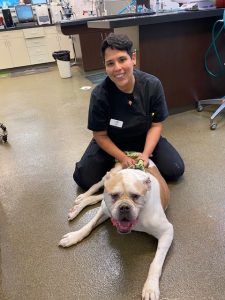 Alexis began her veterinary career in 2013 when she was hired at a clinic as a receptionist and vet assistant.
She is a 2015 graduate of the Veterinary Technology Program at Wayne County Community College. Since graduating, she has worked as a veterinary technician.
Alexis joined the Southpointe team in March 2020 as a relief technician and loved it so much that she became a permanent full-time employee shortly thereafter.
In her free time, she enjoys camping and spending time with her American Bulldog, Mandi.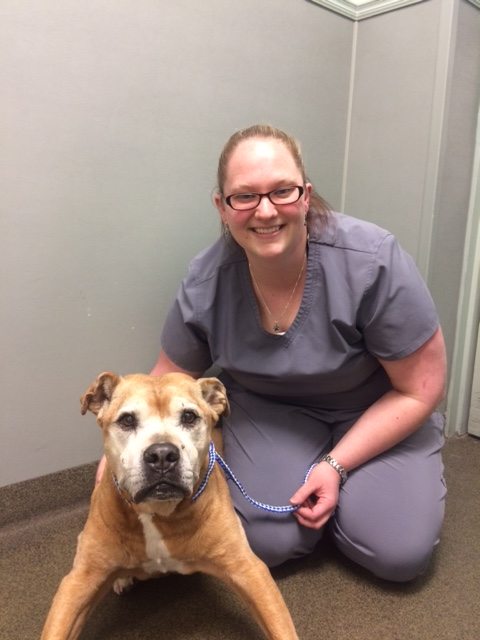 Brandi graduated from the Veterinary Technology Program at Wayne County Community College in June of 2015 and received her license in August of 2015. Her career in veterinary medicine began in March of 2013 working at a feline only practice. Brandi has been a part of the Southpointe team since January, 2015. She completed her practicum hours at Southpointe and was hired as a technician.
She holds a special place in her heart for working with cats. She lives with her husband and all of her rescue cats but loves working with all animals. In the past she has had chinchillas, rats, uromastyx lizards as well as dogs and cats. In her free time she enjoys shooting archery, dancing and crocheting.